The concept of kitchens has been evolving continuously with the changing times. Now, modular kitchens have become a norm and are no longer considered an exception. Besides making a style statement, European modular kitchens also add order, convenience and a unique flavour to a modern urban household. They add a multi-faceted character to the space and reflect the personality of the homeowner.


A modular kitchen arrangement is made up of modern kitchen furniture that is built in modules or units. Each unit is constructed from diversified materials and they come with modular kitchen accessories to help sort everything in an organised manner. One of the most significant advantages of a European modular kitchen design is that it can be customised to meet the needs and requirements of the homeowner. This ensures that you can choose from a wide variety of materials, designs and finishes to turn your dream kitchen into a reality.
Also, customised modular kitchens give you ideal solutions especially when it comes to the organisation of your cooking area. This becomes important because the kitchen is that one space in your home where you end up spending the majority of your time cooking meals for your family. Having a properly organised kitchen space helps you enjoy a simpler, easier and more delightful cooking experience.
Here are a few reasons why modular kitchen designs serve as the perfect additions to every modern home:
Ideal Space Management: One primary advantage offered by a customised modular kitchen is that you can transform a compact kitchen into a multipurpose functional space. A modular kitchen allows you to achieve a well-organised design that also utilises the available space in a smart manner.
Modular kitchen designs use every nook and corner of the given space in an optimum manner and thereby maximise functionality and augment storage systems seamlessly. Each unit offers a wide variety of organisational solutions. They come with a string of innovative accessories and modular cabinet styles that help replicate a clutter-free environment in the kitchen. The compact design of a modular kitchen radiates efficiency in its very foundation.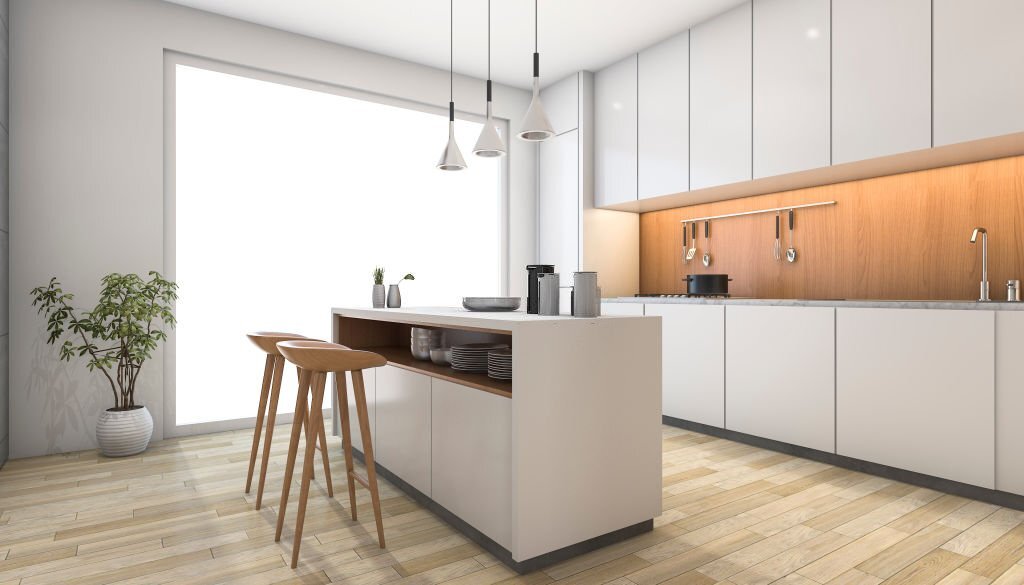 Cost-Effective Installation: If you opt for a luxury modular kitchen, it is likely to cost you a huge amount of money. But nowadays European modular kitchens have a wide range of variety which allows you to pick one that will best suit your requirements and your budget. If you want to save on the cost, you can choose a basic customised modular kitchen design and then modify it in the future according to your choice. This makes the design a whole lot more flexible.
They are manufactured in large quantities and are fairly economic when it comes to installation. The European modular kitchen comes in a pre-fabricated form that allows for quick and easy installation on site. Also, the whole process of assembling the kitchen requires less labour.
Wide range of designs and finishes: The base and the wall units of a customised modular kitchen design come in a wide range of shapes, sizes and finishes, no matter the size of your kitchen. You can choose one that perfectly suits the existing aesthetics and theme of your home. You can go for the u-shaped, peninsula or parallel kitchen layout if you have a large space or you can choose the straight or l-shaped kitchen layout to fit a smaller sized kitchen.
You can also choose the finish of your choice to give an appealing look to your modular kitchen cabinets and also to protect the materials from exposure to extreme temperatures or any other forms of damage.
Easy Repair and Maintenance: Modular kitchens are designed in a manner that makes it easy to access every tiny crevice of the space which makes them extremely easy to clean and maintain. As these systems are almost entirely collapsible, the skirting and other accessories of a modular kitchen can be removed easily to ensure thorough cleaning or repair.
Customisation: Modular kitchens are available in an extensive range of materials, textures, colours, and designs. From chic and modern, to slick and refined, there is a fit for every home and aesthetic. Depending on the needs of the homeowner, the modular kitchen units can also be customised and personalised with minor variations from the original, conventional design.
High Durability: The core materials that are used to build modular kitchens offer high durability and resistance to termites or borers. These materials consist of MDF or high-quality plywood that is boiling water-resistant and does not bend or warp over a long period of time. Good manufacturers also ensure that the cabinets in moisture-ridden areas, like the sink cabinet, have an outer finish that is similar to the rest of the luxury modular kitchen with an inner layer that is lined with an aluminium sheet to create a waterproof membrane.
Remodelling: The functional nature of a modular kitchen design helps homeowners to change the aesthetic of their kitchen at any given point in time. Such designs allow homeowners to render their kitchens with an entirely new look by simply changing their cabinets, cupboards, knobs or backsplash tiles. The flexible and continually adaptable design of modular kitchens helps homeowners move ahead with changing times.
Well-established brands like Würfel have a wide range of modular kitchen designs to suit your style and home décor. You can get a free design quote for your kitchen and wardrobes by filling out the form below or dropping us an email at contact@wurfel.in. To know more about Würfel products, take a look at our website. With 45 studios across the country, Würfel is the most premium and the largest modular kitchen and wardrobe brand in the country. It was awarded the 'Best Modular Kitchen Brand' by Times Business Awards consecutively for the years 2018, 2019, 2020 and 2021 and also 'The Most Innovative Kitchen Award' in 2019 & 2020 by India Kitchen Congress. Visit a Würfel studio near you to catch a glimpse of the latest modern modular kitchen designs and own your dream kitchen soon. Click here for more details.