Würfel Kuche is a luxury modular kitchen brand, renowned for its unwavering commitment to crafting bespoke kitchen solutions that are as unique as their clients. Their kitchen designs are a testament to the perfect fusion of exceptional craftsmanship, premium-grade materials, and state-of-the-art technology, resulting in kitchens that are both visually stunning and exceptionally functional. With a focus on creating spaces that are tailored to each client's individual needs, Würfel Kuche has earned a reputation as a leader in the world of modular kitchens.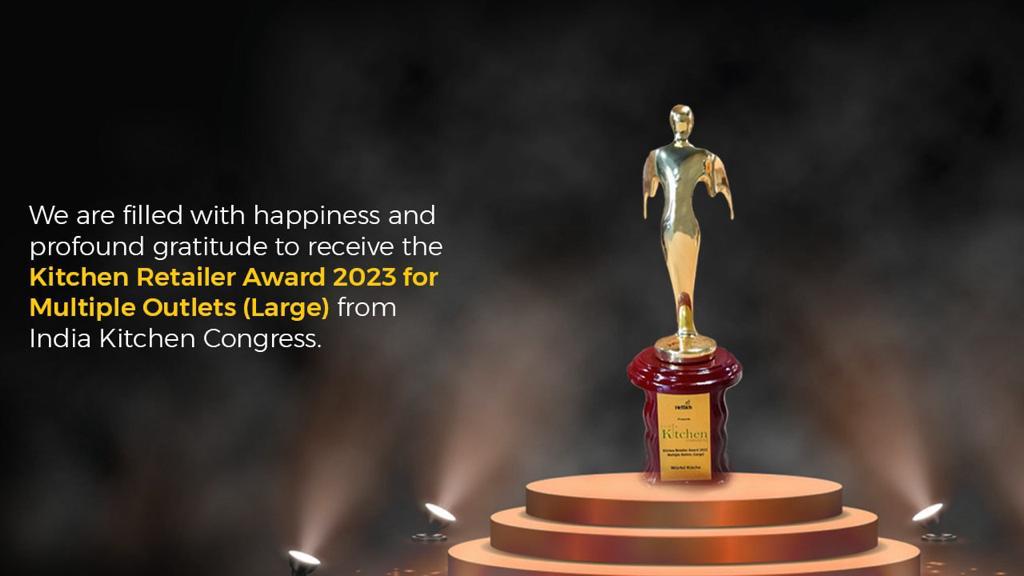 With over 45 studios across India, the brand has consistently been recognized for excellence in the industry, winning awards such as the Best Modular Kitchen Brand from 2018 to 2023 and the Most Innovative Kitchen in both 2019 and 2022. Notably, at the India Kitchen Congress (IKC) Awards 2023, Würfel was honored for the third time. They won the highly coveted title of IKC Kitchen Retailer Award 2023 Multiple Outlets – Large, underscoring its exceptional quality and innovation. Previously, they were awarded as The Most Innovative Kitchen in 2019 and 2020 by IKC.
The IKC Awards, known for promoting excellence and growth in the modular kitchen and cabinetry industry, are a remarkable recognition of Würfel's commitment to providing the best products and services to its customers.
Distinguished industry experts and subject matter specialists shared their insights on a range of pertinent topics during the India Kitchen Congress event. These included the optimal timing for investing in the kitchen and cabinetry sector, best practices for manufacturing, effective marketing techniques, and strategies for expanding businesses. Attendees had the opportunity to learn from and engage with some of the most prominent thought leaders in the industry, gaining valuable insights to help them succeed in their respective businesses.
Würfel, being a beacon of excellence in the modular kitchen industry, generously shared their profound knowledge and provided a captivating preview of the future trends. Mr. Khanindra Barman, one of the esteemed co-founders and the CEO of Würfel delivered a masterful address on the intricacies of the kitchen business in India. With a wealth of expertise, Mr. Barman illuminated the key factors that have driven Würfel's indomitable success, inspiring the audience with his remarkable insights and vision for the future.
The brand is committed to providing exceptional customer service and premium quality products that meet the demands of discerning customers. Their extensive range of luxury modular kitchens and wardrobes make their studios a one-stop destination for those seeking sophistication and functionality.
Their modular kitchens are a testament to their commitment to excellence, with base cabinets, wall cabinets, and tower units made from top-quality materials such as High Density, Water Resistant Particle Board, MDF, and synchronized plywood. These kitchens come in a variety of finishing options, including laminate, poly-lacquer, glass, and El Lucido, creating a visually stunning and functional cooking experience.
Their wardrobes provide a practical solution for organizing belongings, utilizing high-quality materials sourced from Europe and utilizing PUR glue technology for added durability. With a range of designs to meet individual requirements and lifestyles, Würfel offers a practical and stylish solution for keeping belongings in order.
For those seeking stylish yet practical TV units, their collection offers a choice between floating or freestanding designs, enhancing the theme of the living room while keeping things organized.
Their vanity units bring European elegance to interiors, with sleek designs that add sophistication to Indian homes. Combining style and functionality, these units enhance the aesthetics of the bathroom while providing practical storage solutions.
Würfel's commitment to quality and design excellence is evident in every product they offer, making them the ideal choice for those seeking premium modular kitchens and cabinetry.