When it comes to kitchen design, two popular choices among homeowners are U-shaped and L-shaped modular kitchens. Both designs offer unique advantages and can transform your cooking space into a functional and aesthetically pleasing area. However, determining which layout is better ultimately depends on your specific needs, available space, and personal preferences. In this blog post, we will delve into the characteristics and benefits of U-shaped and L-shaped modular kitchens to help you make an informed decision.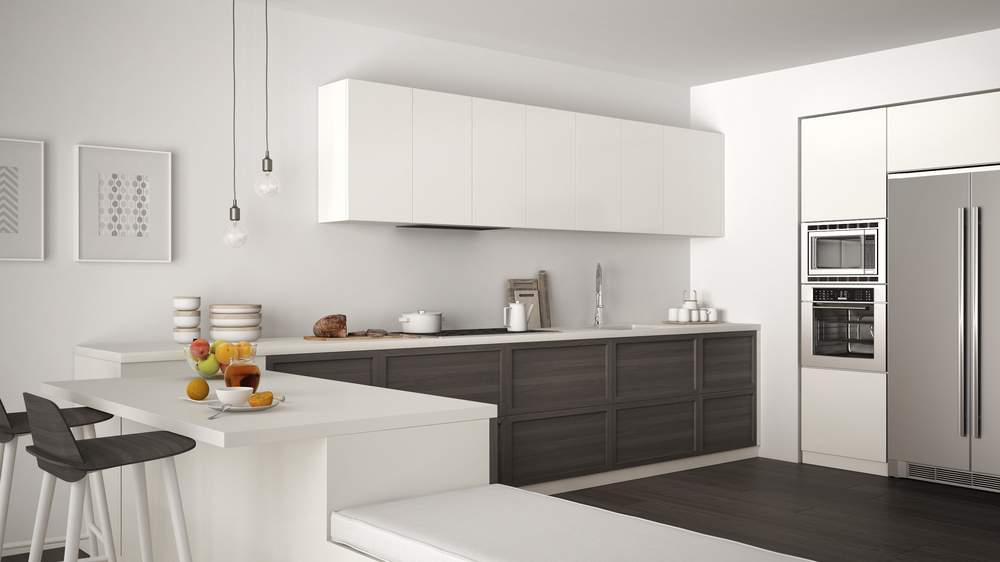 U-Shaped Modular Kitchen:
A U-shaped modular kitchen is characterized by three walls of cabinetry and countertops, forming a "U" shape. This design is ideal for larger kitchens or open-plan spaces where you have ample room to work with. Here are some critical advantages of U-shaped modular kitchens:
Maximum Storage Space: The three walls in a U-shaped kitchen provide abundant storage options. You can have upper and lower cabinets on all three sides, maximizing the storage capacity for your cookware, appliances, and kitchen essentials.
Ample Counter Space: With countertops on three sides, a U-shaped modular kitchen design offers plenty of workspace. This allows for easy movement between cooking zones and provides multiple areas for food preparation, cooking, and serving.
Efficient Work Triangle: The work triangle, which consists of the sink, refrigerator, and cooking range, is an important aspect of kitchen design. In a U-shaped kitchen, these key elements can be conveniently positioned within the triangle, making cooking tasks more efficient.
Enhanced Functionality: U-shaped modern kitchen provides a dedicated cooking zone, separate cleaning area, and additional space for kitchen appliances and accessories. This layout allows for a smooth workflow and makes it easier to multitask in the kitchen.
L-Shaped Modular Kitchen:
An L-shaped modular kitchen features cabinets and countertops along two adjacent walls, forming an "L" shape. This design is suitable for both small and large kitchens and offers several benefits:
Space Optimization: L-shaped modular kitchens are known for their space-saving capabilities. This layout utilizes two walls efficiently and leaves the center area open, providing room for movement and social interaction.
Easy Traffic Flow: With no obstructions in the center, an L-shaped kitchen ensures smooth traffic flow. This is particularly advantageous for smaller kitchens where space needs to be utilized optimally while maintaining a spacious and uncluttered environment.
Flexible Design Options: The L-shaped layout offers flexibility in terms of design and functionality. You can choose to place the sink, stove, and refrigerator on either wall, depending on your preference and the kitchen's plumbing and electrical infrastructure.
Versatile Dining Options: If you have sufficient space, an L-shaped kitchen can accommodate a dining area or a kitchen island, providing a convenient spot for informal meals or additional workspace.
Choosing the Right Layout:
When deciding between a L-shaped and U-shaped modular kitchen, consider the following factors:
Available Space: Evaluate the dimensions and layout of your kitchen to determine which design is more suitable. A U-shaped kitchen requires more space compared to an L-shaped one, which is more adaptable to compact areas.
Workflow and Accessibility: Consider your cooking style and how you move around the kitchen. If you prefer a defined work triangle and have multiple cooks in the household, a U-shaped kitchen may be a better choice. However, if you value an open and seamless flow, an L-shaped modular kitchen can offer the desired accessibility.
Storage Requirements: Assess your storage needs and the number of kitchen appliances and utensils you possess. If you have an extensive collection or require more storage options, a U-shaped kitchen might be the ideal solution.
Aesthetics and Personal Preference: Finally, consider your personal taste and the overall aesthetic you wish to achieve. Both U-shaped and L-shaped kitchens can be designed to match various styles, so choose the one that aligns with your vision and complements your home's interior.
In conclusion, the decision between a U-shaped modular kitchen and an L-shaped modular kitchen depends on several factors, including available space, workflow preferences, storage requirements, and personal taste. By carefully evaluating these aspects, you can make an informed choice and create the best modular kitchen that meets your functional needs while enhancing the overall appeal of your home.