A contemporary, tidy, efficient, and aesthetically pleasing home emphasises organisation and storage and the wardrobe plays an integral role in it. The idea of a wardrobe has changed significantly over time. It is now much more than just a simple storage unit; it is a clever piece of furniture that lends both personality and utility to the space. In addition to serving a practical purpose, wardrobes also convey a homeowner's sense of style. There is no longer a single design that matches every bedroom. They have evolved into sleek, contemporary pieces that feature many styles and employ different materials. Since each design will have its own distinctive qualities, they will all be different in terms of appearance. So it is very important that you choose your modular wardrobe design wisely based on your own style preferences and requirements.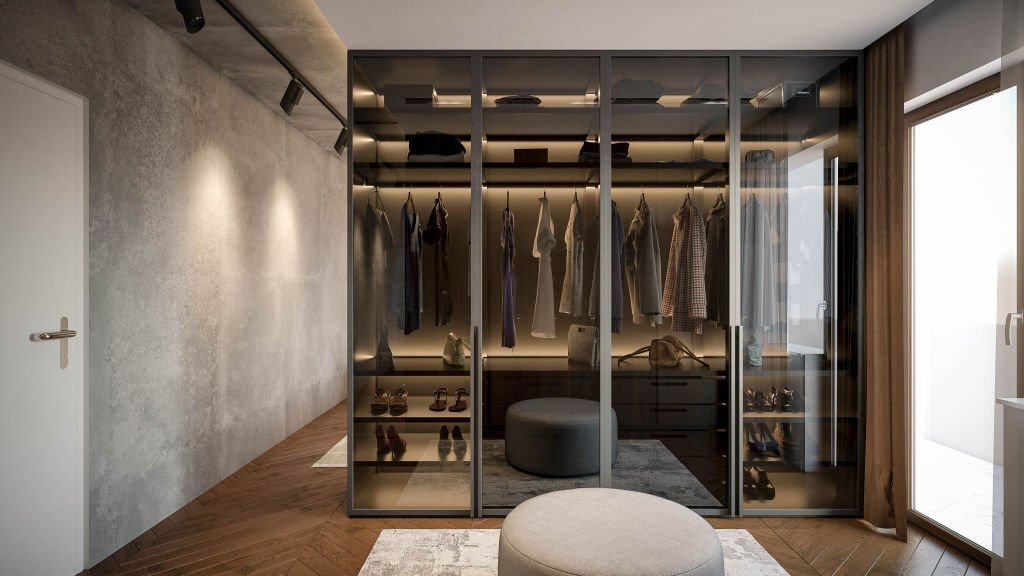 The top 5 trending wardrobe designs in the market are as follows:
Frosted glass wardrobe: Frosted or translucent glass modular wardrobe blocks visibility but still allows diffused light to pass through, giving a hazy vision of what's lies behind. When it comes to interiors, frosted glass offers privacy besides adding a decorative quality. It proves to be a perfect choice for those who want to incorporate texture into their space. This stylish customised glass wardrobe design enables homeowners to keep a practical and appealing space. If you wish to include a sense of luxury in your bedroom,then you must definitely consider having a frosted glass wardrobe design that has become a popular choice amongst modern homeowners.It will help enhance the appeal of your bedroom to a great extent while adding a modern charm.
Louver wardrobe: Be it good ventilation or enhanced aesthetics, the modular wardrobes having louvered doors offer a lot more benefits than the conventional variants. This customised wardrobe design makes a statement and elevates the overall ambience of the space. They complement several décor styles such as modern, traditional, transitional etc. Louvered doors are available in a wide range of styles such as hinged, bi-folding and sliding and can be made with different types of wood in gloss, matte or paint finish. They offer high functionality and a fresh, minimal look to your interiors which makes them one of the most sought-after modular wardrobe designs in the market.
Wardrobes with fluted doors: One of the current significant trends in interior design is the use of fluted detailing in the interiors. It offers more interest and texture to your luxury wardrobe design besides giving it a trendy and exquisite appeal. The vertical lines give an evergreen appeal that complements most environments and interior design styles. So no matter the design theme of your interiors, the fluted finish is sure to give your entire customised wardrobe design more charm and personality.
Lacquer wardrobe: This luxury wardrobe design can vastly improve the aesthetics of your home. Lacquered glass has a wide range of applications and when applied to wardrobes it helps freshen up the interiors and add a cosy vibe to your space. This customised wardrobe design lends a modern touch to your interiors that maximise your space while enhancing the overall appearance of your room. Not only does it increase the style quotient, but it also provides ease in terms of installation, cleaning and maintenance. Moreover, they also come with scratch and moisture resistance along with high durability.
Mirror wardrobe: The modular mirrored wardrobe design looks amazing in combination with any décor style. Their visual allurecan change an ordinary-looking room to one with an excellent aesthetic appeal without changing anything else.The mirror helps reflect the light around the room, creating the illusion of a bigger space. The transparency of a mirrored modular wardrobe gives your room an open and airy feeling, making it seem broader and more spacious. This customised wardrobe design is perfect for small bedrooms as it adds space and can alsoserve as a dressing unit. This makes it very convenient for you to get ready in the morning as you don't need to keep running between your mirror and your wardrobe.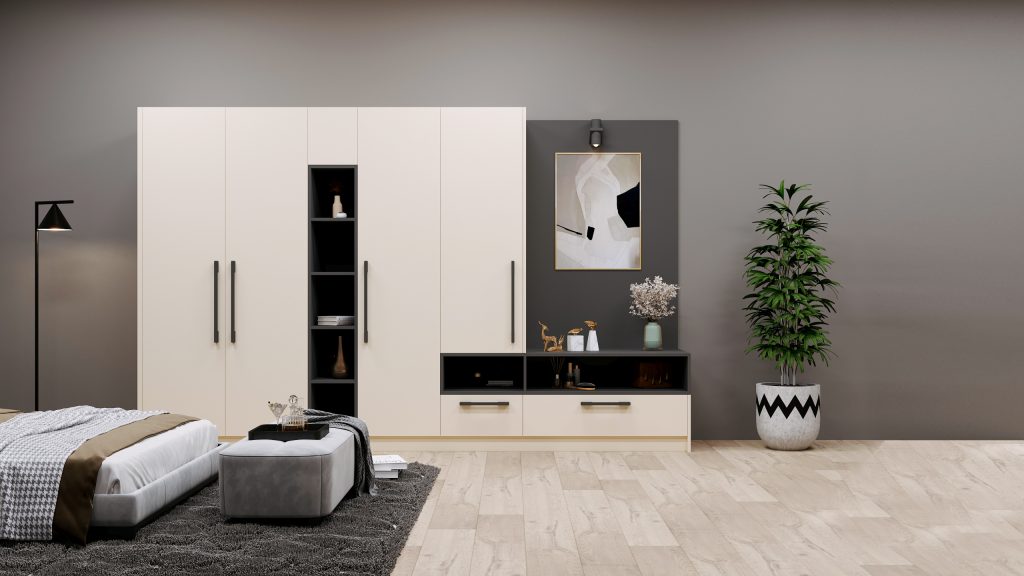 Well-established brands like Würfel have a wide range of modular kitchen designs to suit your style and home décor. You can get a free design quote for your home interiors by filling out the form below or drop us an email at contact@wurfel.in. To know moreabout Würfel products, take a look at our website. With 46 studios across the country, Würfelis the most premium and the largest modular kitchen and wardrobe brand in the country. It was awarded the 'Best Modular Kitchen Brand' by Times Business Awards consecutively for the years 2018, 2019, 2020, 2021 and 2022 and also 'The Most Innovative Kitchen Award' in 2019 & 2020 by India Kitchen Congress. Visit a Würfel studio near you to catch a glimpse of the latest modern modular kitchen designs and own your dream kitchen soon.Click here for more details.